Hello, and welcome to the history of Virtua Fighter. In this thread, we will be talking about the history behind Virtua Fighter. So let's begin with the first game.
Virtua Fighter
Virtua Fighter was released in 1993 on Sega's Model 1 Arcade System. This was the very first 3D Fighter in fighting game history and also the first game to feature ring-outs. Unlike games like Street Fighter II and Mortal Kombat, the game uses a 3-Button layout consisting of Punch, Kick, and Guard.The polygonal graphics were breathtaking at the time and garnered success in the arcades for its real-world fighting techniques and its fighting engine. However, the game is noticeable for it's floaty jump mechanics, on which players criticized at the time. But in contrast to 2D fighters, aerial combat wasn't the main focus.
The first Virtua Fighter games would be later ported to home consoles. It was ported to Sega Saturn(1994 JP, 1995 NA), Sega 32x(1995) and PC(1996). The Sega Saturn version was rushed in order to be ready on time for the May 1995 North American release of Sega Saturn. It suffered from inferior visuals, gameplay glitches, and lack of gameplay modes (It only had Arcade, Vs., and Option). As an apology to the fans, SEGA would release an update called Virtua Fighter Remix in July, which was free to Saturn owners at the time. The 32x version had more features than the Saturn version such as Tournament and Ranking, plus the 3D graphics took full advantage of the Genesis' add-on 32-Bit capabilities.
Virtua Fighter Remix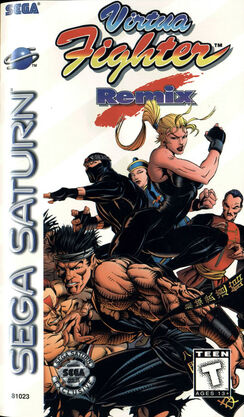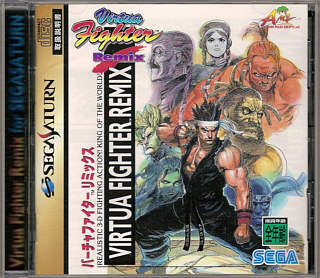 Virtua Fighter Remix was released in both Arcades and Sega Saturn in 1995 as a free gift in the mail to the registered Sega Saturn owners. Remix retains the gameplay from the original, but the only difference is that the game is graphically enhanced. The arcade version of Virtua Fighter Remix is no different from the Saturn version since it uses the ST-V hardware. This version was later ported to the PC and it was developed by Sega AM-1, not AM-2.
Character Roster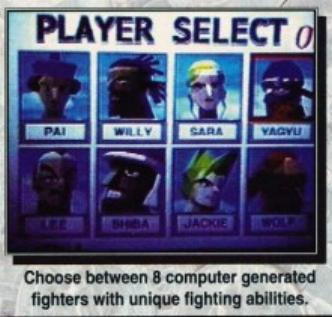 The game has 8 starting characters, 1 boss character, and 1 removed character. The characters are:
Akira Yuki
- Kung fu teacher from Japan, fighting style is Bajiquan
Pai Chan
- Martial arts movie star from Hong Kong, fighting style is Ensei-Ken
Lau Chan
- Chef from China, father of Pai, fighting style is Kou-Ken
Wolf Hawkfield
- Pro-Wrestler from Canada, fighting style is Professional Wrestling
Jeffery McWild
- Fisherman from Australia, fighting style is Pancratium
Kage-Maru
- Ninja from Japan, fighting style is with Ninjutsu
Sarah Bryant
- College student from San Francisco, California USA, fighting style is Jeet Kun Do (later changed to Martial Arts in Virtua Fighter 4 Evolution)
Jacky Bryant
- Race car driver from San Francisco, California USA, older brother of Sarah, fighting style is Jeet Kun Do
Dural
- Gynoid-like creature created by Judgement 6, Mother of Kage-Maru, fights with a mix of other characters' moves. She is the boss character and a secret character in the game.
Siba
- An Arab fighter that was seen in the prototype of the game. His character model was already made and his photo was seen on some VF1 arcade cabinets. He was later dropped from the game, only to be replaced by Akira.
Other Facts
-(Taken from Localditch.com)While in China doing research for Virtua Fighter, Yu Suzuki met with a master of Hakkyokuken, the techniques used by Akira in the game. During the visit, there was quite a bit of customary drinking as the two parties greeted each other. Later on, during a demonstration, the inebriated master's punches went further than expected, striking Suzuki in the gut. At this point, Suzuki fell to the ground head first, leaving the scar on the left side of his head.
-The prototype version had a different select screen and all characters (except Pai and Wolf) had either different name changes or had their names spelled different. For example:
*Kage-Maru was Yagyu
*Jeffery was Willy
*Lau was Lee
*Jacky's name was spelled "Jackie"
*Sarah's name was spelled "Sara"
*Siba's name was spelled "Shiba"
-The original Virtua Fighter Arcade Cabinet can be found at Smithsonian's National Museum of American History.
-As previously mentioned, even though Siba was cut from the roster, his photo is still shown in arcade cabinets, mistakenly having Akira's name on it.
-Virtua Fighter, along with Virtua Racing, were a big hit with arcade gaming audiences, and marked the beginning of 3D rendered video games.