Welcome to the History of Dead or Alive. In this topic, we are gonna talk about the DOA series, as well as side stories such as Xtreme Beach Volleyball, Ultimate, and Dimensions. Let's begin...
Dead or Alive
Dead or Alive was released for the Arcades in November 1996, on the Sega Model 2 Hardware. This was the first game that Sega license their hardware to a Third-Party company such as Tecmo. The gameplay and button scheme are based on Virtua Fighter 2, but what was original about it was that it focused more on speed, simplistic commands, and reaction time other than just long combo strings. The most defining features in that game was speed and the countering system. DOA's countering system was the first in the fighting genre to utilize different commands that corresponded to each type of attack. There were two different holds: The Offensive Hold and the Defensive Hold. Finally, there is the Danger Zone. The Danger Zone surrounded the stage, and if the opponent falls on the danger zone, they will be launched in the air, which will result in air juggles. This game also introduced the breast physics, meaning that the female characters' breast would bounce up and down. Although this was a silly concept at first, it actually became the trademark of the series.
There were about 4 versions of the first DOA game. The Model 2 version was ported to the Sega Saturn in 1997 over in Japan only. In 1998, Tecmo released Dead or Alive for the Playstation in US, Japan, and Europe, as well as Dead or Alive++ for Arcades only. And finally, the Saturn version of DOA was released in 2004 as part of Dead or Alive Ultimate for the Xbox. Let's compare these 4 versions...
Model 2/Saturn Version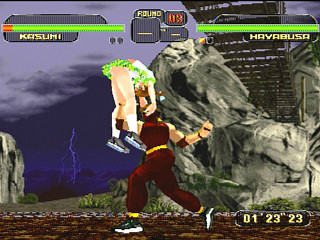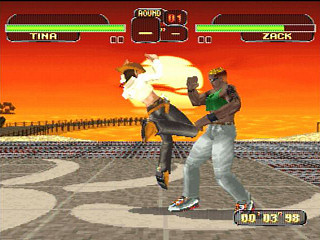 This along with the Saturn version were the original version of DOA. This was based off of Virtua Fighter 2 in terms of ring-outs. Just like other Model 2 fighters, the Sega Saturn version lacked 3D backgrounds. The Saturn version was only released in Japan on October 9, 1997.
Playstation Version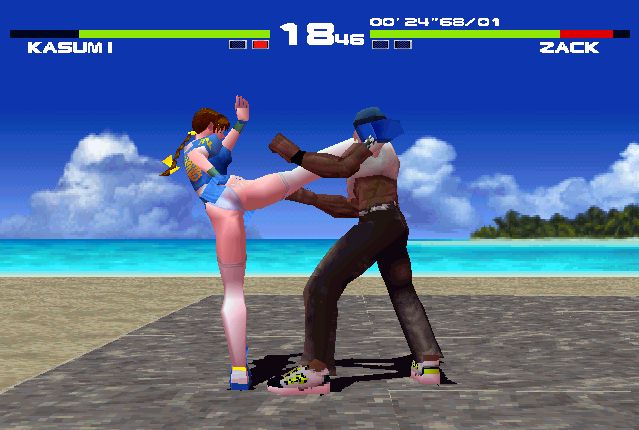 The Playstation version came out on March 12, 1998 in Japan, March 31, 1998 in US, and July 1998 in Europe. Unlike the Saturn version, this one has uses a different graphics engine, a new fighting engine, new background music, and two extra characters.
Dead or Alive ++
There was an arcade version of the PS version called "Dead or Alive ++" which was released in 1998. Dead or Alive ++ has both content that is found on DOA1 and the upcoming DOA2 game, as well as the 6-point hold system.
DOA Ultimate Version
This version was released as part of the Dead or Alive Ultimate bundle back in 2004 for the Xbox. It was the first time that the Saturn version was seen in America. This version is the same as the Saturn version, but the only difference is that it is translated to English and it had online play. This game, along with the Ultimate version of Dead or Alive 2, were the second fighter to have online play (The first being Mortal Kombat: Deception).
Character Roster
On the Model 2/Saturn version, there were originally 8 characters, 2 more for the Playstation version, and a playable boss character on all versions.
Kasumi
- Runaway Shinobi from Japan, fighting style is Mugen-Tenshin style Ninjutsu.
Zack
- A funky DJ from USA, fighting style is Muay Thai Kickboxing.
Ryu Hayabusa
- Ninja from Japan, fighting style is Hayabusa-Style Ninjutsu.
Bayman
- Mercenary from Russia, fighting style is Command Sambo Wrestling.
Lei-Fang
- College Student from China, fighting style is Tai-Chi.
Gen-Fu
- Old Master from China, fighting style is Shini-Rokugo-Ken.
Tina Armstrong
- Professional Wrestler from USA, fighting style is Professional Wrestling.
Jann Lee
- Bouncer from China, fighting style is Jeet Kune Do.
Bass (Playstation/DOA++ Version)
- Professional Wrestler from USA, father of Tina, fighting style is Professional Wrestling.
Ayane (Playstation/DOA++ Version)
- Kunoichi from Japan, Half-sister of Kasumi, fighting style is Mugen-Tenshin style Ninjutsu.
Raidou
- Shinobi from Japan, uncle of Kasumi, father of Ayane, fights with a mix of other characters moves. He is the boss character and a secret character.
Other Facts
*The arcade version of Dead or Alive was a success in Japan, but not in the West because of Tekken's popularity.
*In the prototype version of DOA, there was a Muai Thai character named Kelly. It turns out that it was actually Zack.
*On the US Playstation cover of DOA, Kasumi's hair appeared to be white. I have no idea why...
*The Saturn version and the Ultimate version has extra costumes.
*Ryu Hayabusa originated from Ninja Gaiden for the Arcade, NES, GG, MS, and Genesis/Mega Drive before he came on to DOA.