Well, to answer everyone's question: Yes, Virtua Fighter has a storyline. Just like what I did with Tekken, I'll introduce the Virtua Fighter Storyline to the Eventhubs community.
Virtua Fighter
Released:
1993(Arcade), 1994(Sega Saturn JP), 1995(Sega 32x, Sega Saturn [Both Original & Remix]), 1996(PC)
Story:
Once in the Era of Showa, the defunct Japanese army intended to approach Henry Pu-yi, the last Emperor of Ching Dynasty in their effort to take advantages. However, they were defeated by the Imperial guards who utilized the martial art called "Hakkyouken." Later on, the Japanese army was said to have plagiarized the mysteries of "Hakkyouken" to create the strongest infantrymen and based on this art, complemented the ultimate martial art. Approximately half a century has passed since then and now, Akira Yuki, a young man who journeys around the world to test his martial arts ability. The ultiamte World Fighting Tournament is about to start and all kinds of fighters from around the world, solely relying on one's physcial strength, engage in a life-or-death tournament to determine the world No.1 fighter. Behind the Tournament however, there exists an intrigue designed by the evil syndicate.
Winner of the 1st Tournament:
Lau Chan
Virtua Fighter 2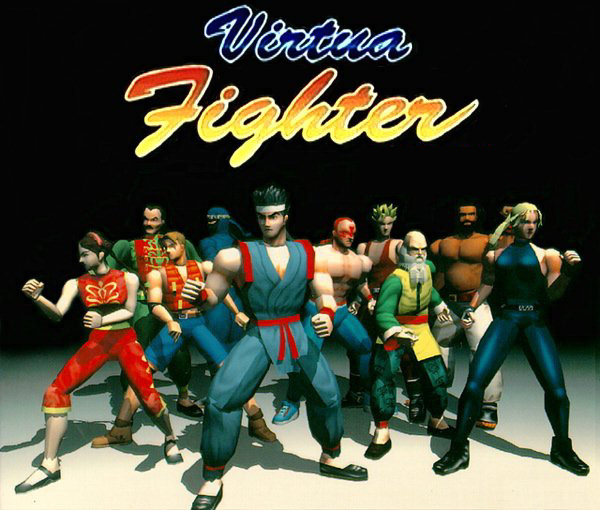 Released:
1994(Arcade), 1995(Sega Saturn), 1996(Mega Drive/Genesis), 1997(PC), 2004 (Playstation 2, as part of the Sega Ages collection).
Story:
One year has passed since eight of the world's toughest, fastest fighters challenged each other in the World Fighting Tournament. Lau Chan may have won the championship, but all of the fighters gained something. Each fighter's limits and shortcomings became crystal clear. Some made new friendships; others developed intense rivalries, but all gained valuable fighting experience before leaving the arena to go their separate ways.
Now, one year later, the call has come again: ten cordial invitations to the second World Fighting Tournament have been sent. Ominously, no RSVPs are requested - as if anyone would be foolish enough to refuse. Could the sinister Judgment 6 cartel be behind all this? Whatever new and formidable moves and techniques these accomplished fighters may possess, they all share one thing in common: the suspicion that this time, the stakes will be much higher.
After a year of hard training, Akira Yuki is back to try out his new moves and to fight the decisive battle against his new-found rival, Wolf Hawkfield. Hong Kong movie star Pai Chan returns for another chance to defeat her father, Lau, while Lau Chan, who has returned to defend his title, strives to perfect his techniques. Pancratium master Jeffry McWild fights to preserve his livelihood. The ninja Kagemaru returns on both official and family business, as he seeks to break the cover and discover the secrets of the mysterious syndicate that pulls the strings of the World Fighting Tournament. Jacky Bryant comes to rescue his sister, Sarah, who - ironically - has been brainwashed and carefully trained to eliminate him. Master of Drunken-style kung fu, Shun Di arrives to try his skills against the hottest young fighters in the world, while Torou-ken expert Lion Rafale fights for freedom from his controlling family.
Who will prevail depends on you. Are you skilled enough to survive the challenge?
Winner of the 2nd Tournament:
Akira Yuki
Virtua Fighter 3/Team Battle
Released:
1996(Arcade), 1998(Dreamcast JP as Virtua Fighter 3TB), 1999(Dreamcast)
Story:
Unfortunately, VF3 has a storyline, but for different characters. See character storylines for details.
Winner of the 3rd Tournament:
Kage-Maru
Virtua Fighter 4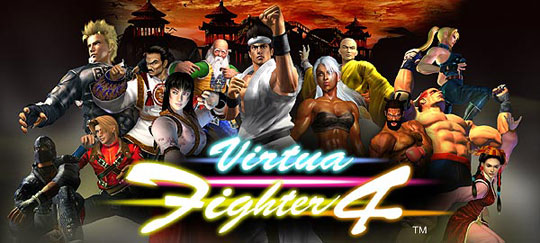 Released:
2001(Arcade), 2002(Playstation 2)
Story:
The World Fighting Tournament - A global competition for those who walk the path of the martial arts. A chance for the world's premiere fighters to vie for the ultimate combative glory. An event whosetrue purpose is shrouded in secrecy.
Judgment 6 ("J6") - Also known as the Organization. A group composed of six global mega-industries, maintaining an iron grip over everything from weapons development to world politics. Their aim is simple - unrivaled control over the world's fate. Their latest plan could be their most ruthless yet.
Dural - A prototype of a programmable human being, possessed with unparalleled fighting skill. Man meets machine in a modern day nightmare, with a metallic shell encasing an actual human being within. The ultimate purpose of the Fourth World Fighting Tournament is to give Dural its final test.
The Fighters - Thirteen men and women, all drawn to the Fourth World Fighting Tournament for their own unique reasons. Thirteen warrior souls, each destined to create their own story in the arena of battle. But in this story, there can only be one victor.
See Virtua Fighter 4: Evolution for Part 2.
Virtua Fighter 4: Evolution
Released:
2002(Arcade) 2003(Playstation 2)
Story:
Worldwide Martial Arts Championship II Tournament - two new competitors bring two fierce new fighting styles to this year's competition in which martial arts masters from all over the world whittle through the contenders until there is only one left standing. Goh Hinogami has been trained by the Organization to take out traitors with the mastery of Judo, while Brad Burns remains undefeated in the arcade trials and impresses all with his blazing Muay Thai Kick Boxing mastery.
The Organization - widely-feared by most, this group composed of six global mega-industries is stronger than ever and continues to rule with an iron fist. They control everything from weapons development to world politics and they are always scheming in dark and mysterious ways. No one knows why just yet, but they have commanded Goh Hinogami to fight in the tournament with orders to kill.
The Quest - the path of each one of these 15 warriors is loaded with endless tests of their will, strength, and courage. When they are not battling an opponenent on a precarious stage in foul weather, they must accept the Quest Orders they are given. Once their Quest is complete, they can enter the tournament and show us why they are among the few elite fighters to qualiy for the most prestigious martial arts tournament in the world.
The fighters are ready to begin. Are you?
Winner of the 4th Tournament:
There was no exact winner due to the interruption of Dural during the Grand Finals between Shun and Kage
Virtua Fighter 5/R/Final Showdown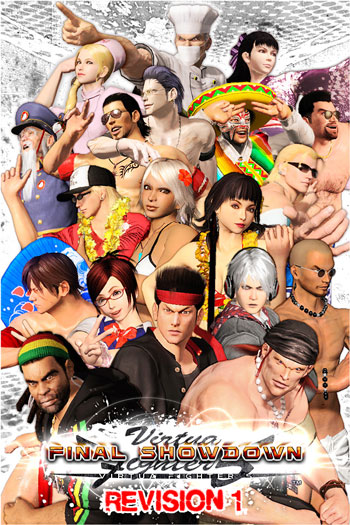 Released:
Virtua Fighter 5 - 2006(Arcade), 2007(Playstation 3 [Ver. B], Xbox 360 [Ver.C])
Virtua Fighter 5 R - 2008(Arcade)
Virtua Fighter 5: Final Showdown - 2010(Arcade), Summer 2012(Xbox Live Arcade, Playstation Network)
Story:
All of the sought after invitations for the Fifth World Fighting Tournament have been sent and now the 17 best fighters (now 19) in the world begin their final phases of preparation. They must learn from their prior mistakes and perfect every aspect of their mind, body, and soul - for there is no room for mistakes in this competition. Little do they know that J6, the organization funding the tournament, has sinister ulterior motives for the contest and the company's top secret Dural program is already well underway.
In the organization's quest for world domination, the scientists at J6 are creating the ultimate fighting machine with human features. Their first model was defeated in the Fourth World Fighting Tournament, which drove them to kidnap Vanessa. She was able to escape with the help of an insider, but not before they captured her combat data and transferred it to the new advanced Dural model named V-Dural. J6 is determined to find out who the inside traitor is that released Vanessa and more importantly, if V-Dural is indeed ready to defeat the world's best fighters. The Fifth World Fighting Tournament will reveal both - let it begin.
Alternate Version:
The Fourth World Fighting Tournament had come down to one final bout between Kage-Maru and Shun Di. But as Kage-Maru launched his final offensive, the glowing, silver form of Dural interrupted the match.
"Mother…" Kage-Maru whispered, facing the transformed being that had once been Tsukikage. Knowing full well that it was too late to save his mother, Kage-Maru destroyed her with his own hands. But when he looked at her face, his expression froze. "This is…"
Concerned by Dural's defeat, J6 captured Vanessa for the next step of the Dural program. But before they could turn her into the next Dural, she disappeared – apparently with inside help. But they had already transplanted her combat data into the production-model Dural, and thus J6 announced the Fifth World Fighting Tournament to test the abilities of the new V-Dural and to determine the identity of any traitors within J6.
Winner of the 5th Tournament:
Unknown.
That is all for right now. Character Storylines are coming soon.